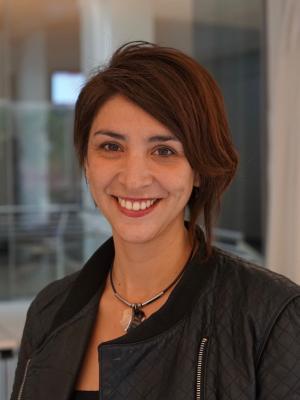 Assistant Professor, Composition
Associate Director, Mizzou New Music Initiative
DMA - Music Composition - University of Michigan
MM - Music Composition - University of Michigan
Licenciatura - Music Composition - Universidad Nacional de Villa María
305 Sinquefield Music Center
Bio
Carolina Heredia is an Intermedia artist, composer, violinist, and educator. Her works have been commissioned and performed in the United States, Europe, and South America by esteemed musicians and ensembles, including JACK Quartet, Alarm Will Sound, Exigence choir, Aspen Contemporary Ensemble, Oberlin New Music Ensemble, clarinetists Alex Fiterstein and Derek Bermel, Tesla Quartet, Argus Quartet, Chiara Quartet, Duo Cortona, and Khemia Ensemble, among others. Her music has been programmed at the Walt Disney Concert Hall under the Green Umbrella Series, the Pulitzer Arts Foundation Saint Louis Symphony Orchestra series, Merkin Concert Hall at the SONIC Festival, Aspen Music Festival, Lake George Music Festival, the Bowdoin Music Festival, the Mizzou International Composers Festival, Strange, Beautiful Music Festival, Crested Butte Music Festival, and the Toronto International Electroacoustic Festival, among many others. Her work Ius in Bello (2014), for clarinet and string quartet, was released in 2019 in an album titled Joy and Desolation, recorded by Alexander Fiterstein and the Tesla Quartet and produced by Orchid Classics.
Heredia's Fromm Music Foundation commission supported the creation of her work Ausencias/Ausências/Absences, a 20-minutes work for string quartet and fixed media, premiered by the JACK Quartet in March 2016. A later extended 30-minutes version includes live dance, and a mix of fixed and interactive mapped video projections. Ausencias was awarded several prizes, including the 2018 International New Music Competition John Corigliano Grand Prize, and the 2019 Lake George Music Composition Competition, among others. She has also received a Barlow Endowment Commission to write a work for Duo Axis in 2021.
Carolina Heredia was born and raised in Córdoba, Argentina where she received a Licenciatura in Music Composition degree from the National University of Villa Maria (Córdoba, Argentina) and graduated from the Violin program at the Superior Conservatory of Music, Felix T. Garzón (Córdoba, Argentina). Upon finishing her studies, she worked as a violinist, arranger, producer, and composer. She was also an active part of the popular music scene as a free-lance performer, playing and recording violin for several traditional and progressive Tango, and Latin American Folk, and Rock groups. After moving to the United States in 2009, Carolina completed her Master in Music Composition degree, her Doctorate in Music Composition degree, and was later a 1-year Research Fellow for the Institute of Humanities at the University of Michigan. Her mentors include Michael Daugherty, Evan Chambers, Erik Santos, and Kristin Kuster. Her mentors from Argentina include Juan Carlos Ciallela, Claudio Vittore, Luis Nani, and Pablo DiGiusto. She was a 2017-18 postdoctoral fellow at the University of Missouri School of Music where she holds the position of Assistant Professor in Music Composition and Associate Director of the Mizzou New Music Initiative.