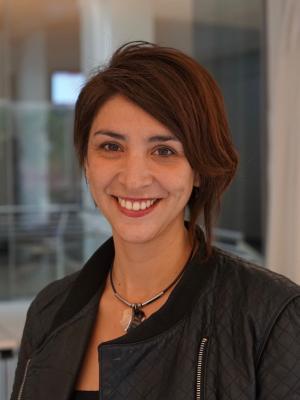 Assistant Professor, Composition
Assistant Director, Mizzou New Music Initiative
MM - University of Michigan
DMA - University of Michigan
305 Sinquefield Music Center
Bio
By exploring the merging of music and visuals, Argentinian composer Carolina Heredia's current research is invested in the production of interactive audiovisual works. A 2015 Fromm Commission recipient, her compositions have been commissioned and performed in the United States and South America by esteemed musicians and ensembles such as JACK Quartet, Derek Bermel, Alarm Will Sound, Aspen Contemporary Ensemble, Duo Cortona, Alex Fiterstein, Tesla Quartet, Chiara Quartet, and Khemia Ensemble, among others. Her music has been featured on the SONIC Festival NYC, Aspen Music Festival and School, Bowling Green New Music Festival, the Mizzou International Composers Festival, SEAMUS, Strange Beautiful Music, New Music Gathering, Crested Butte Music Festival, Bowdoin Music Festival, and the TIES Toronto International Electroacoustic Festival, among others. Her work Virgina (2015), for solo alto and mixed choir, was awarded the Brehm Prize in choral composition, premiered by the University of Michigan Chamber Choir under the baton of Jerry Blackstone, and is currently published by the Hal Leonard company. Her work Ius in Bello (2014), for clarinet and string quartet will be released this year on a record by Alexander Fiterstein and the Tesla Quartet on Orchid Classics.
Carolina Heredia moved to the States in 2009, when she was 28 years old to pursue graduate education in music composition. She had received a Licenciature in Music Composition from the National University of Villa Maria (Cordoba, Argentina) and graduated from the Cordoba State Conservatory of Music from the Violin program. Before coming to the States, she had also worked as a violinist, arranger, producer, and composer for the Metropolitan Orchestra of Cordoba and was part of the popular music scene performing violin with and recording for several traditional and progressive tango, folk, and rock bands. In 2017, Carolina completed her Doctorate in Music Composition from the University of Michigan, studying with Michael Daugherty, Evan Chambers, Erik Santos and Kristin Kuster. She was a 2017-18 postdoctoral fellow at the University of Missouri School of Music. Starting in the Fall of 2018, she will begin her appointment as an assistant professor in music composition and assistant director of the New Music Initiative at the University of Missouri, Columbia.
Heredia's 2015 Harvard University Fromm Music Foundation Commission allotted the creation of her work Ausencias/Ausências/Absences, for string quartet, and fixed media, that was premiered by the JACK Quartet in March 2016. Later that year, she was awarded a one-year fellowship at the University of Michigan Institute of Humanities to further develop and extend the work into an intermedia version by adding dance and interactive video and extending its length from seventeen to thirty minutes. Heredia collaborated with Costa Rican choreographer Sandra Torijano and Interactive Video Engineer Carlos Garcia, as well as collaborated with the technical team at the Duderstadt Center including staging, lighting, and sound. The artistic impetus of this work was taken from the last writings of Violeta Parra, Alfonsina Storni, and Ana C. Cesar, three South American poets who took their own lives. In this work, she explores the concept of suicide as an attempt to exercise a capacity for empathy and compassion as well as to destigmatize mental illness. 
Heredia founded Khemia Ensemble in 2015, a contemporary music ensemble who strives to create innovative audiovisual concert experiences involving interactive technology. The ensemble has presented in venues across the Americas including National Sawdust (NYC), Trinosophes (Detroit), Radio Nacional and Facultad de Musica (Argentina), Facultad de Artes (Colombia), among others. Khemia has received support from the Foundation for the Contemporary Arts, the Eastman School of Music Paul R. Judy Center for Innovation and Research, the University of Michigan, and the Mizzou New Music Initiative.