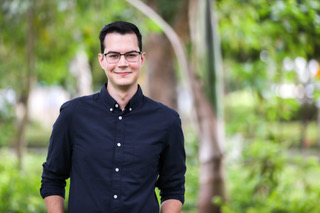 Jazz & Guitar
BM, Conservatory of Music of Puerto Rico
Bio
Rafael A. Nieves-Rosario graduated with honors from the Conservatory of Music of Puerto Rico from where he received his B.M. in Jazz and Caribbean Music. Born in a musical family, he was exposed from an early age to the Latin American sounds of salsa and latin jazz through the influence of his father; a pianist, composer, and arranger.
Nieves-Rosario has distinguished himself in a multiplicity of musical genres including, but not limited to, rock, salsa, pop, worship, and jazz, evidenced by his performances and recordings with a wide array of figures in Latin America (René Gonzalez, Moisés Cancel, Armando Sanchez, Yashira Guidini, Onda Moderna, IQ Project). He has played in several festivals, such as Festival Claridad, and the Conservatory of Music Jazz Festival, among others.
Since his early teens, he studied with prominent jazz guitarist Mike Arroyo. In the Conservatory, he studied under Fernando Mattina, who has been defining the sound of jazz guitar in Puerto Rico for decades.
Currently, Nieves-Rosario is part of the music team at The Crossing Church in Columbia, MO; and he is pursuing an MDiv at Covenant Theological Seminary in St. Louis. In addition to his work as a musician, he enjoys philosophy and theology, meeting new people, and the occasional passion fruit juice.