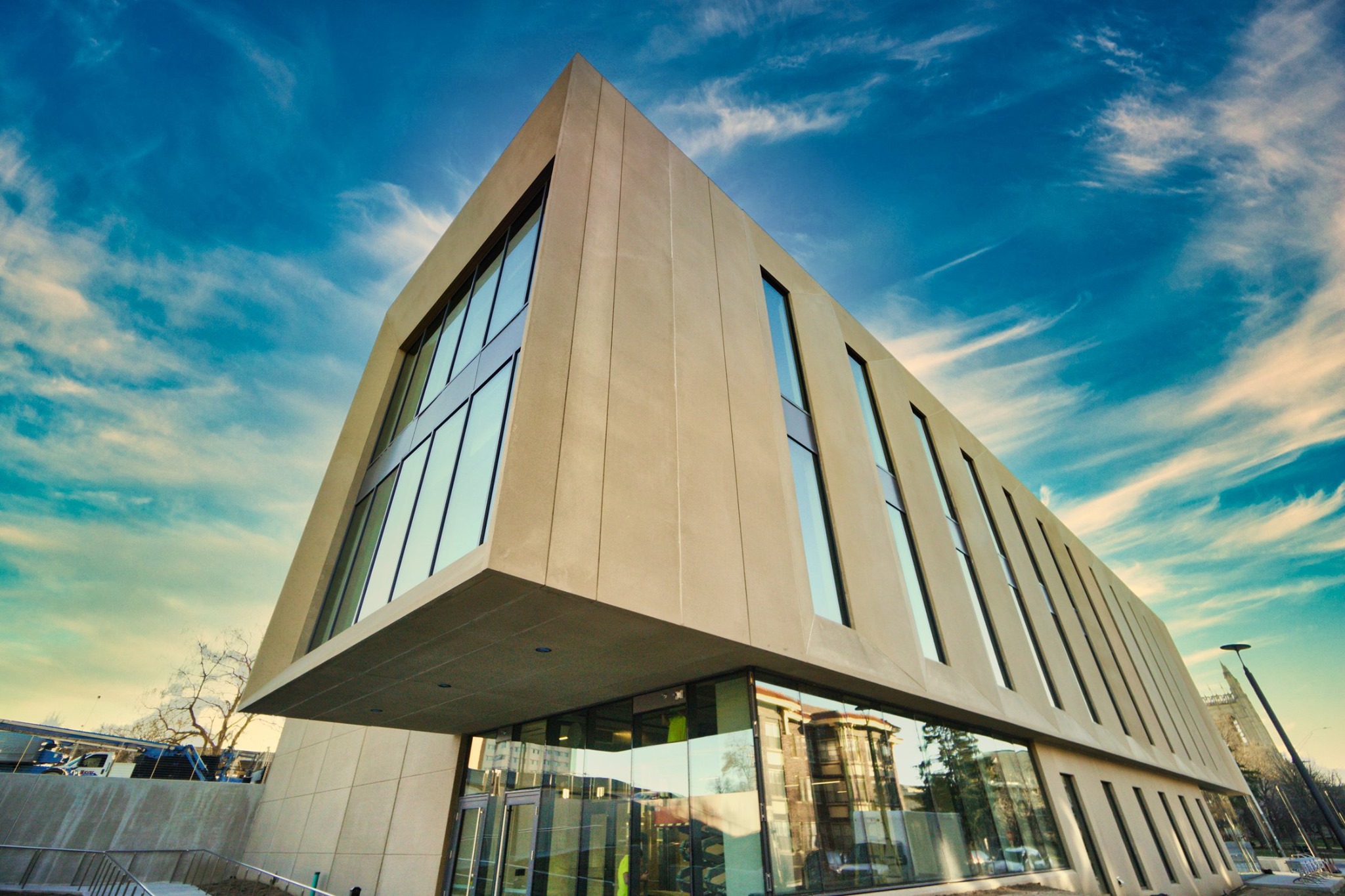 The Jeanne and Rex Sinquefield Music Center (SMC) opened in 2020 with these features, all acoustically isolated and optimized:
Large instrumental rehearsal room for band, orchestra, percussion, jazz band, and new music ensembles

Choral Hall for small recitals and choral rehearsals (100-seat capacity), including a new Steinway 7' grand piano

Three classrooms for music education, music theory, and a music lab including group piano equipment

A suite of offices for the administrative staff and a faculty workroom

A state-of-the-art recording studio with control room and isolation booths

14 faculty offices for history, theory, music education, conducting, and percussion

6 practice rooms for percussion

20 general practice rooms, including two large ones for chamber ensembles

Storage for large and small instruments belonging to the School of Music

Large ensemble library
18-person live room 

409 sq. ft. control room

543 sq. ft. tracking room

91 sq. ft. isolation booths

Avid S4 24-Fader Control Surface

Argosy Eclipse Desk with Dual Racks

Avid MTRX with Pro Tools|HDX

Mac Pro (2019)

Genelec monitor A

Avantone monitor B

Blackmagic Design Production Suite

Q-SYS Ecosystem + Controller

DANTE Ecosystem integration

NDI and SDI-12G integration

Switchcraft TT patchbay

Articulating Dual 27" LG 4K displays

Ceiling-mounted 94" LG 4K TV display

Extensive analog outboard processing

Extensive microphone collection

Extensive plugin collection

Tuneable Curtain Room Acoustics

Panasonic PTZ Production Cameras

BMD Pocket Cinema 6K Production Cameras

Skaarhoj PTZ Pro controller

Yamaha C3 Piano

Mobile Audio Rig (TF-Rack, Tio1608, Wireless)

Mobile Video Rig (Dell R240, Cisco Switch, Soundcraft Si Expression)

Shure ULXD Wireless kit

Sennheiser EW 300 Wireless kit

Temperature-controlled storage room and wiring closet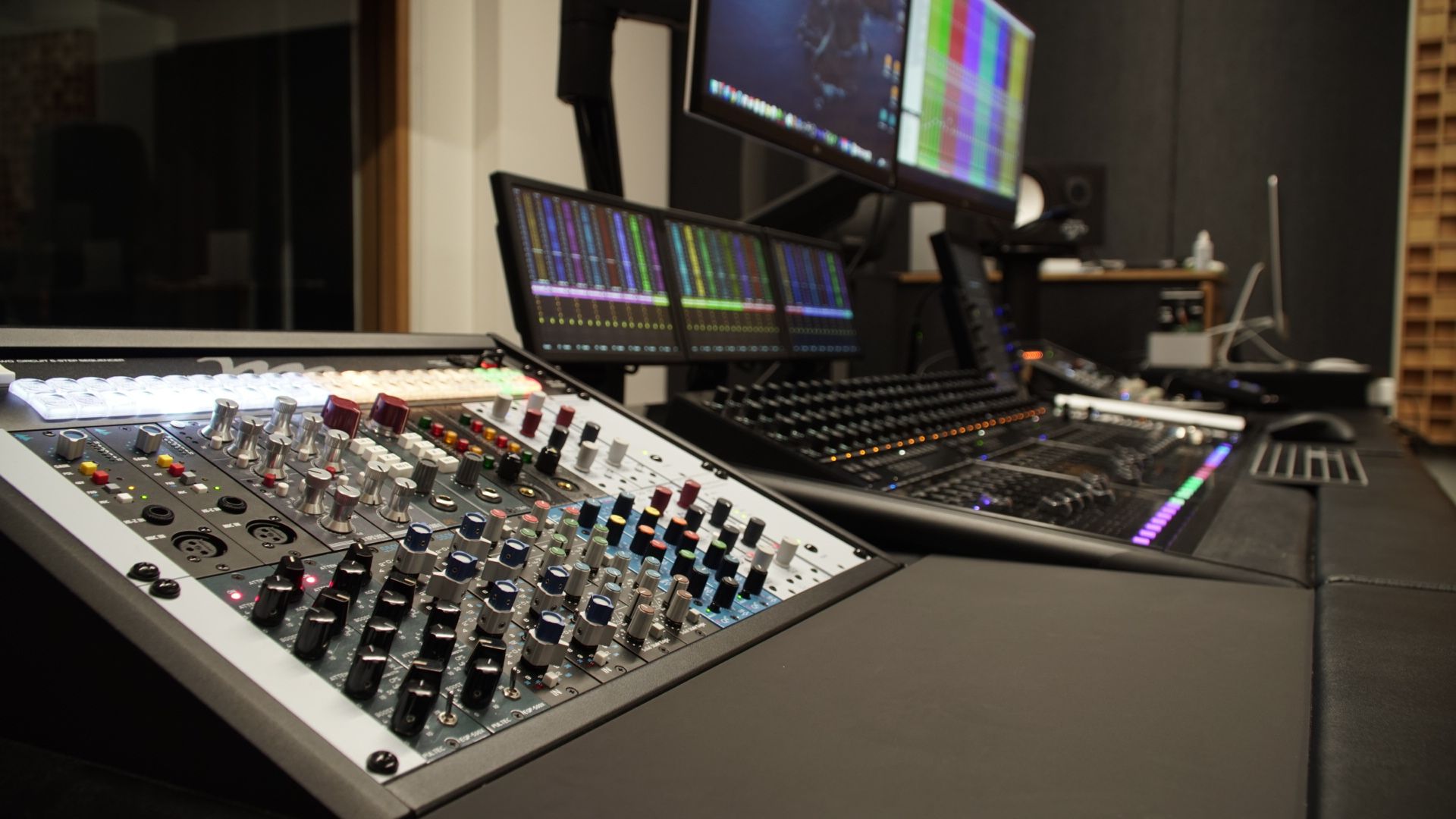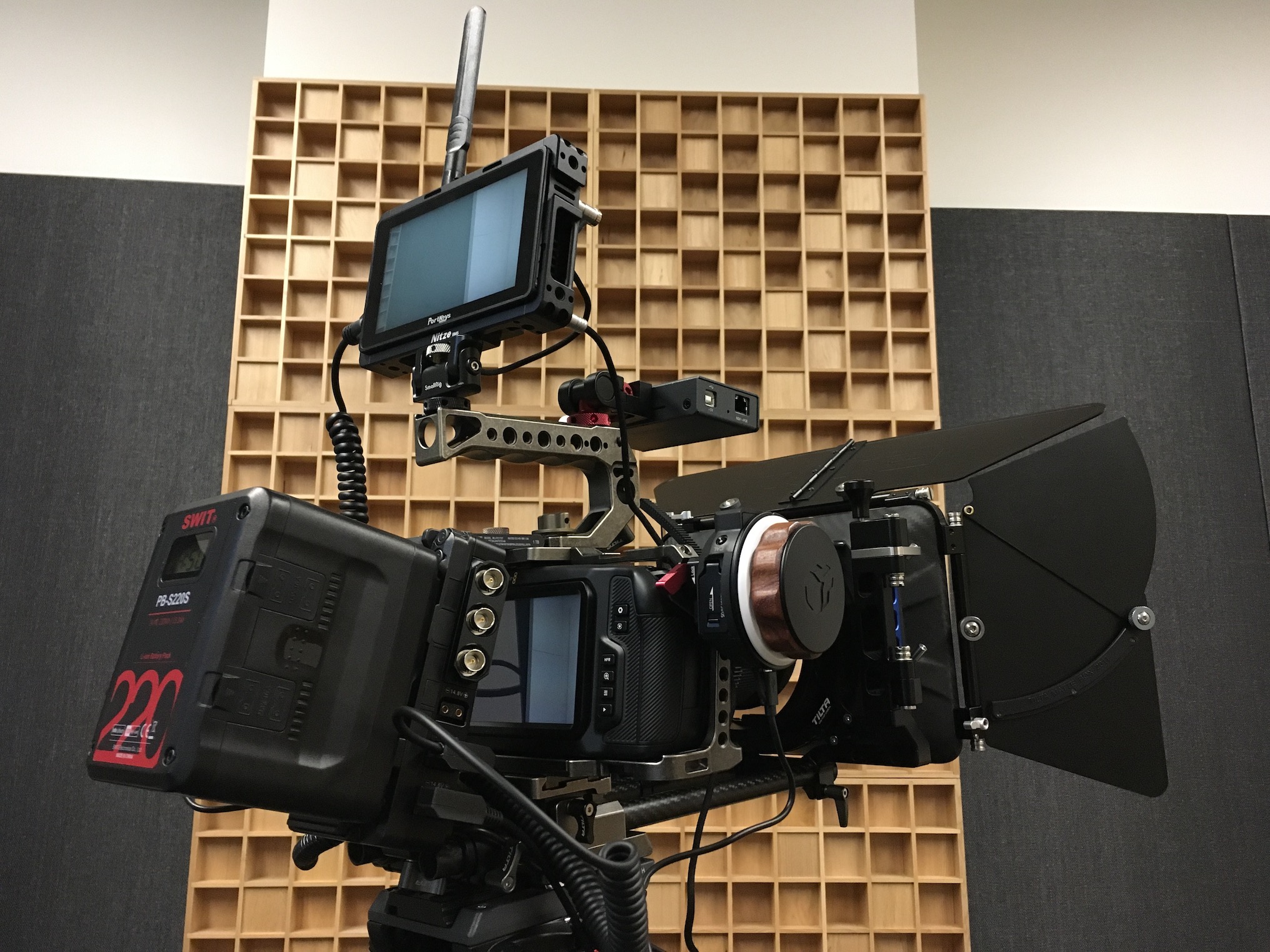 Equipment:
12 iMac Student Workstations

IMac Teacher Workstation with AMX controller

Custom Bazel Studio Composer Desks

Casio Privia PX-S1000 digital pianos

Yamaha LC4 Music Lab integration

Focusrite RedNet X2P interfaces

DANTE Ecosystem integration

Epson Laser Projector and Motorized Screen

Motorized window shade controls

Presonus loudspeakers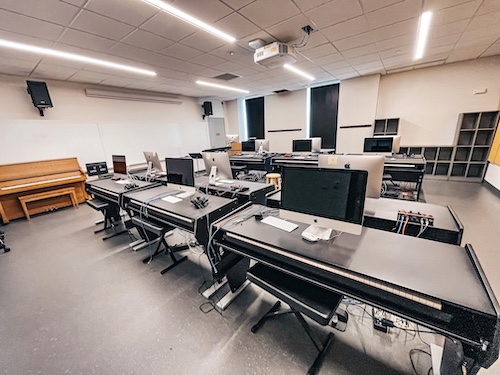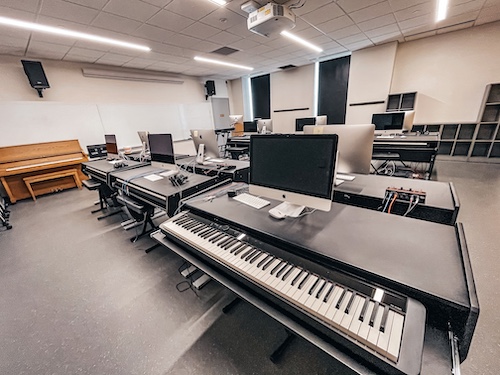 The Ensemble Library houses over 7,500 pieces of music for our instrumental and choral ensembles. Equipped with high density Wenger filing cabinets, a computer, copier, and work tables, the library is used by faculty members, graduate assistants, ensemble librarians, and music education students to study scores and prepare music for rehearsals.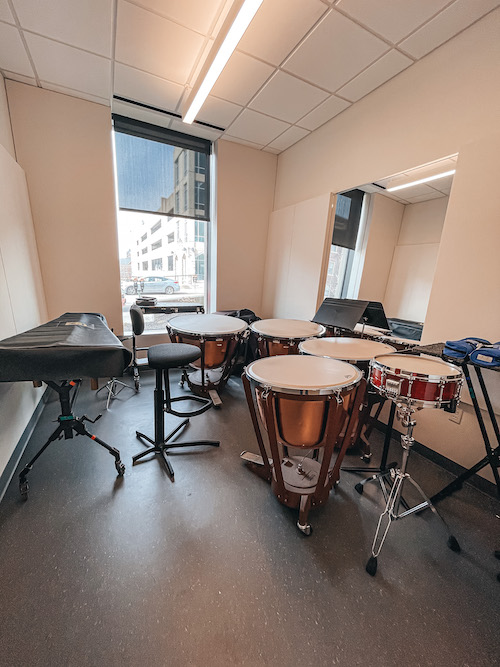 There are six acoustically controlled practice rooms with windows, sound-proofing, and automatic doors on the first floor of SMC. These rooms are about 12x12 and very close to the large rehearsal  room and performance space. In addition, the first floor has two large storage spaces that house personal and school-owned equipment.
On the third floor of the Sinquefield Music Center, there are 20 acoustically controlled rooms with high ceilings, mirrors, and soundproofing; 6 small, 4 medium, and 2 chamber size rooms with wood floors.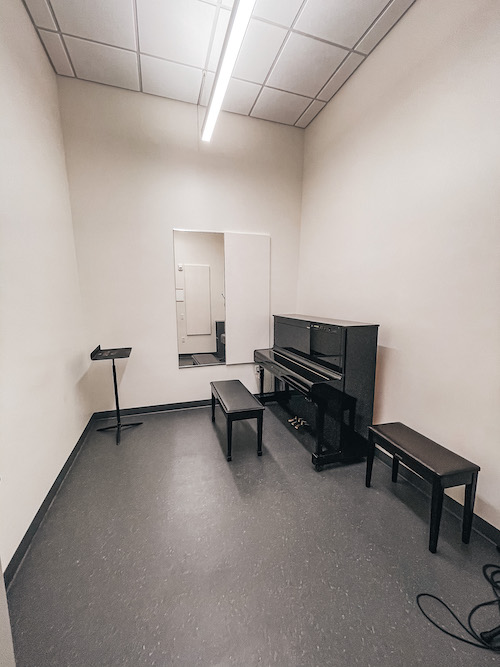 This 2500 square foot room serves two purposes.  By day, there are many classes and choral ensembles that rehearse here.  In the evening, it is equipped with special lighting and sound equipment to serve as a performance space for small recitals of soloists and chamber groups.  It has a wood floor and a large technical booth off the back wall in addition to changeable acoustical curtains and permanent tiered levels.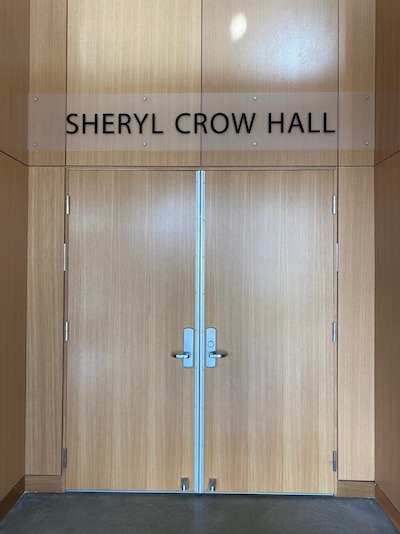 The largest rehearsal room is on the first floor of the Sinquefield Music Center and is 3500 square feet.  This room houses orchestra, band, jazz band, percussion and new music ensemble rehearsals in addition to other conducting classes, chamber ensembles, and studio classes.  It has a wood floor and a large percussion storage closet off the back wall.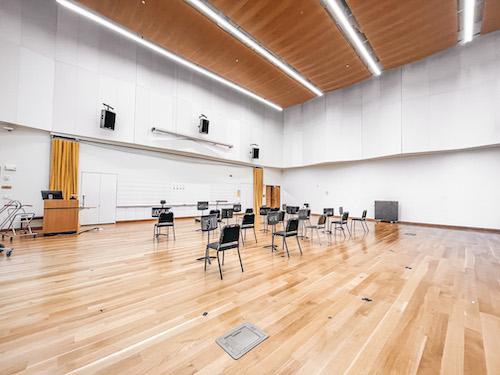 One of the classrooms on the third floor (383) serves as a designated music education room and is filled with instruments and materials surrounding music education.  Complete with full technology for both in-person and virtual teaching, this space is filled every day with undergraduate and graduate classes.
The Administrative Suite includes four
individual offices and four open work stations.It it adjacent to the workroom and also includes the Marilyn Silvey Tatlow conference room that is fully equipped for virtual meetings.  The conference room can seat up to 10 people and is used by faculty, staff, and students.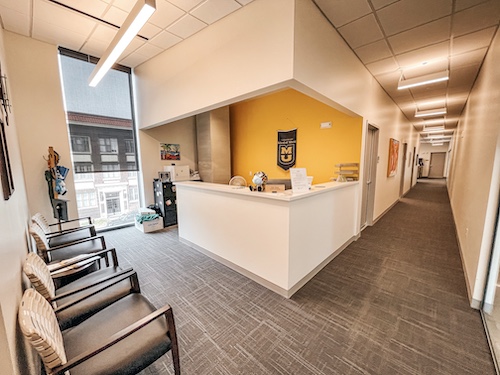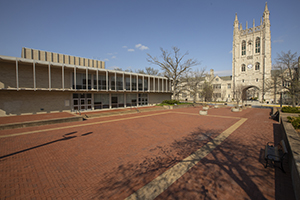 The Fine Arts Building (FAB) opened in 1960 to accommodate relatively small art, music, and theatre programs at the time.  The music portion of the building includes:
Rogers Whitmore Recital Hall (240-seats with a carpeted stage)

Four classrooms ranging from 30 to 100 seats, the largest a lecture hall with fixed seating

24 faculty offices and studios

40 practice rooms

Office suite centers (Mizzou New Music Initiative and Budds Center for American Music Studies), staff members, and a workroom
School of Music practice rooms are limited to anyone enrolled in myZou for applied lessons, an ensemble, or a techniques course (non-major group piano and voice classes included).  
Student Responsibilities for Use of Practice Rooms 
No smoking or tobacco use in practice rooms or surrounding areas. 
No food or beverages in practice rooms. 
Do not use equipment in the practice rooms for purposes other than those for which it is intended (i.e., a piano is not intended to be used as a desktop). 

Because of the possibility of theft, instruments, books, and personal items should not be left in the practice rooms.
Since a large number of people use the practice rooms during the day and night, it would be appreciated if everyone would help keep the rooms neat and clean. Please pick up any trash found in the rooms and place it in the proper container.