2021-2022 Events
More events to be added as our calendar is finalized!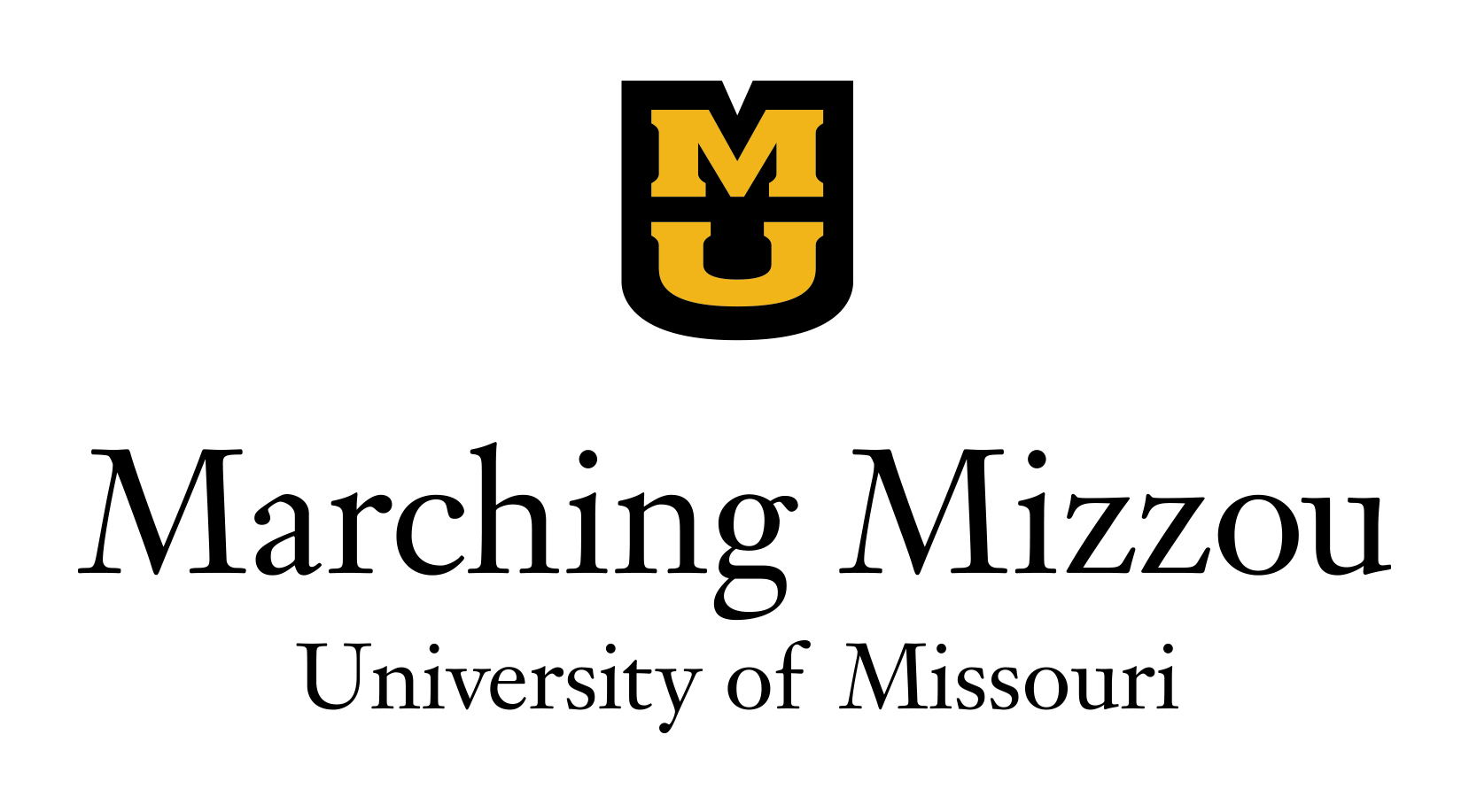 The University of Missouri Band Program looks forward to hosting you again in-person for high school marching events, hopefully this fall. As of 4/19/21, the date for Champions of Champions has been finalized and we are now accepting applications. Specific safety parameters will be communicated once those guidelines are released. 
University of Missouri Champion of Champions Marching Festival - Saturday, October 23, 2021 
This season-culminating event allows bands the opportunity to perform for a nationally-recognized adjudication panel in a large performance venue. Memorial Stadium features a state-of-the-art FieldTurf performance surface and ample seating for spectators. Bands will compete in a prelims/finals format. The event will also include exhibition performances by the Marching Mizzou Drumline and "The Big M of the Midwest," Marching Mizzou.
Entry deadline: Wednesday, September 15, 2021
2021 Champion of Champions Application
Champion of Champions Spectator Information/FAQ
Mizzou Homecoming Parade & Band Competition - Saturday, October 9, 2021 
Experience the excitement of MU Homecoming by participating in the annual Mizzou Homecoming Parade & Band Competition. 
Entry deadline: Wednesday, September 15, 2021
2021 Homecoming Parade Application



All-State Music Day (instrumental only) - October 24, 2021 | 1-4pm

FREE instrumental All-State material preparation clinic with masterclasses by MU faculty. Register online here.
76th Annual Marching Mizzou Band Day - Saturday, September 4, 2021
Applications for Band Day will be made available once the fall guidelines from the Boone County Department of Health, University of Missouri, and MU Health Care, the official sponsor of Marching Mizzou, are released. If we are unable to host our 76th Annual Marching Mizzou Band Day in-person due to Southeastern Conference parameters, we will host our Virtual Celebration in Marching Arts Performance again as we did last fall via a live-stream on our Marching Mizzou Facebook Page.
This event was FREE and open to all high school band programs across the country for any size program in any class or division. Video submissions were accepted in the following categories:
Outdoor/Field Performance – Standstill Musical Performance
Outdoor/Field Performance – Field Show Performance
Drumline/Front Ensemble
Color Guard
Feature Twirlers
This event is designed as a non-competitive celebration of the marching arts. Performances by our Marching Mizzou Drumline, Color Guard, Feature Twirlers, and Marching Mizzou will close our virtual celebration.


Mizzou Jazz Festival - February 19, 2022

Annual jazz festival on campus bringing together the finest junior high and high school instrumentalists, highly qualified and respected jazz adjudicators, and top quality clinicians.


All-Juniors Honor Band - February 20-21, 2022

Each year, the MU Bands host the All-Juniors Honor Band, an immersive on-campus experience for talented junior students from across the state of Missouri.


Esterhazy String Quartet Seminar, Trombone Boot Camp, Missouri Summer Composition Institute (COMP) - Summer 2022, Dates TBD
Information will be available at this link: https://music.missouri.edu/mizzou-summer-music-camps-and-programs

Mizzou Virtual Jazz Fest -  Although we are unable to offer our traditional in-person jazz festival, this year we are hosting a virtual festival to still provide your students with a meaningful experience! Open to middle and high school groups and no registration fee required. The components of this year's festival include: 1) Feedback/commentary provided over the recordings submitted by your group; 2) Group Zoom (or Skype) sessions on February 26th or February 27th (if your schedule permits); and 3) One song from each group chosen to be featured in a compilation premiered virtually on February 27th as an end-of-festival "concert."
If you are interested in participating, please complete the following REGISTRATION FORM by February 1st. Those who register will receive a second follow up form that details how to submit recordings. Recordings will be due by February 15th.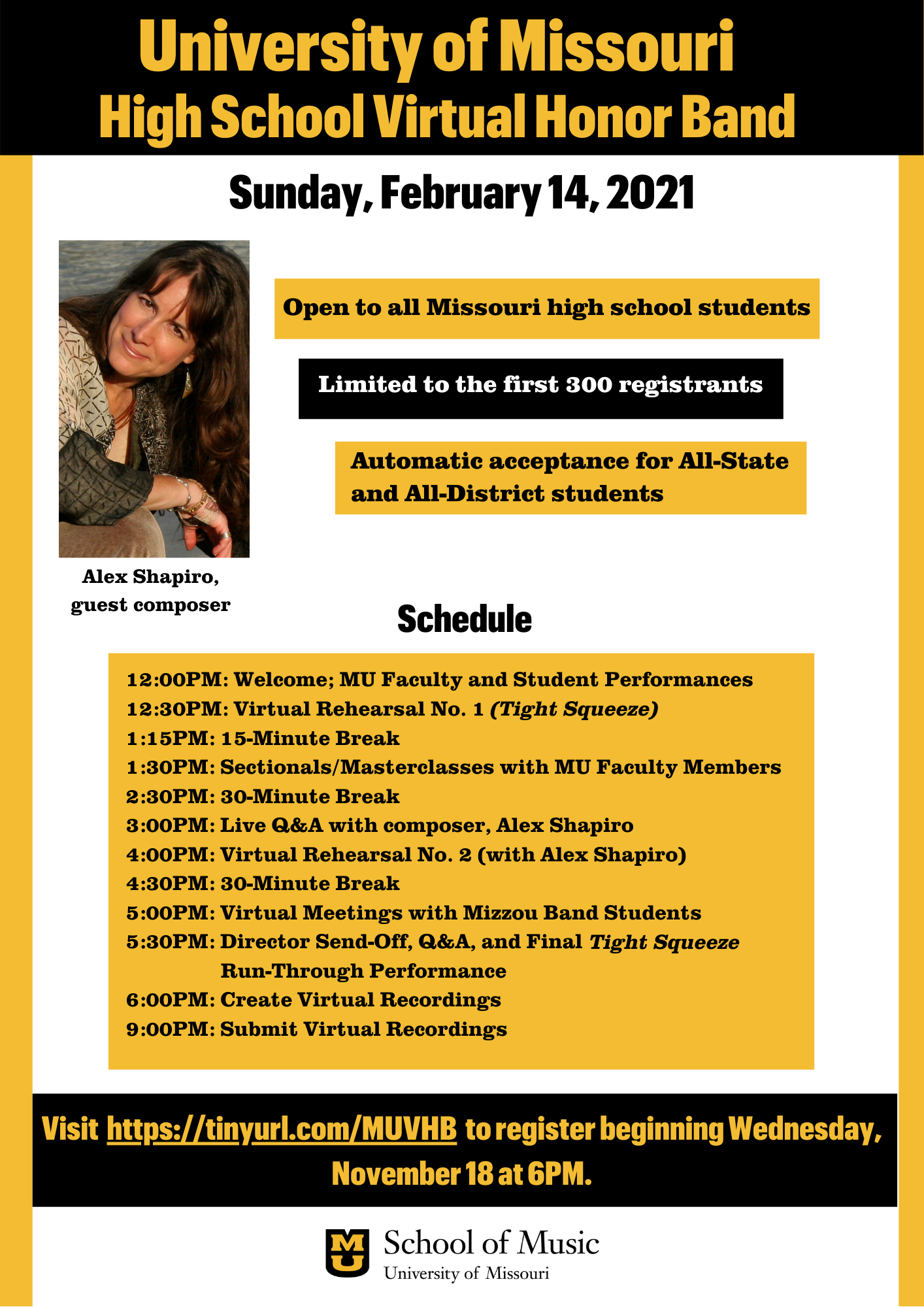 MU High School Virtual Honor Band - Sunday, February 14, 2021, 12 – 6 PM. This virtual event is open to all 9 - 12 Missouri High School students, and will take place via Zoom. Students who have participated previously in the MMEA All-State Band or an All-District Honor Band will receive automatic acceptance upon registering. Students will hear performances and receive masterclasses from our wind and percussion faculty, have a virtual rehearsal and Q&A session with our guest composer, Alex Shapiro (http://www.alexshapiro.org), meet with current MU Band students, and will submit recordings for a massed ensemble performance. Registration will begin on Wednesday, November 18 at 6PM, and is limited to the first 300 registrants. Students can register themselves at https://tinyurl.com/MUVHB.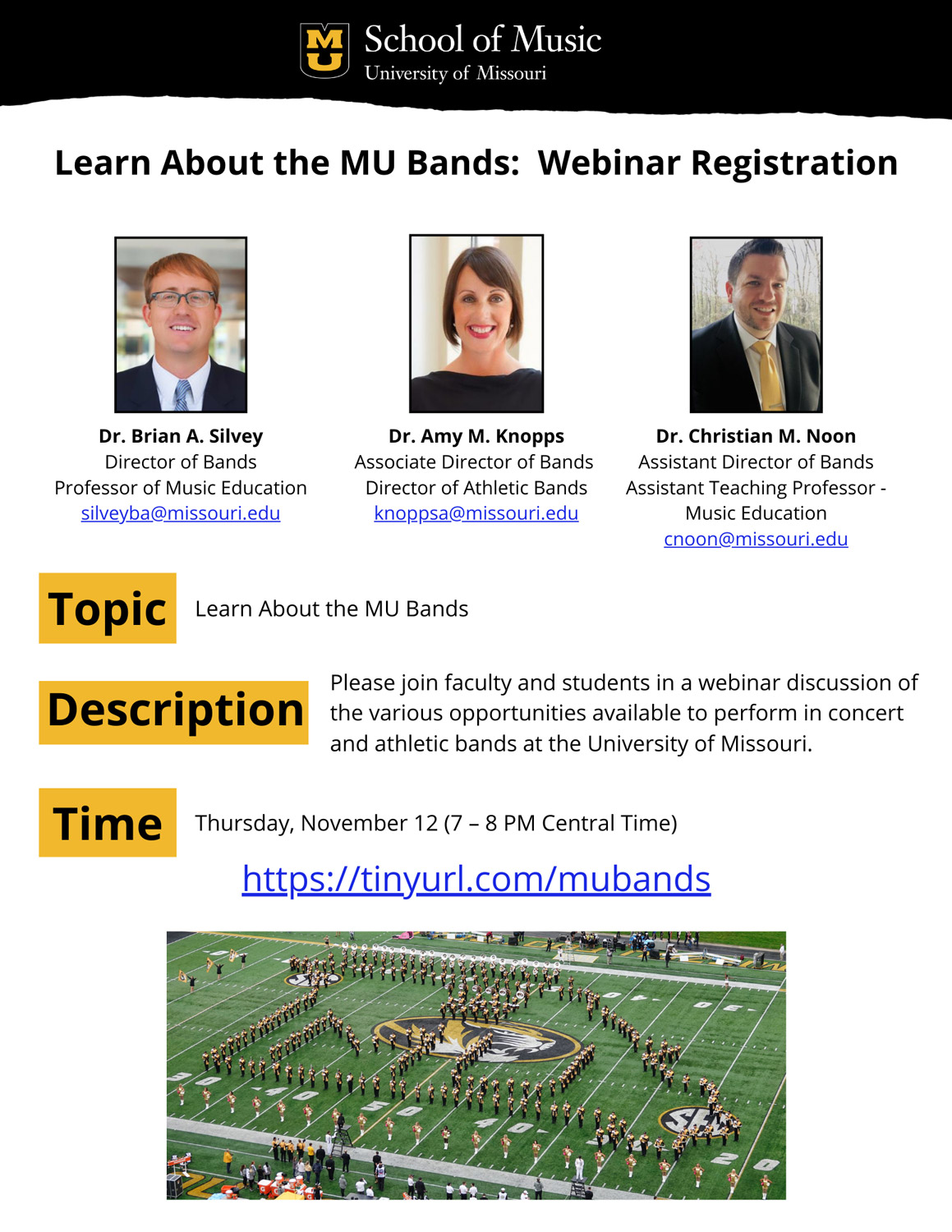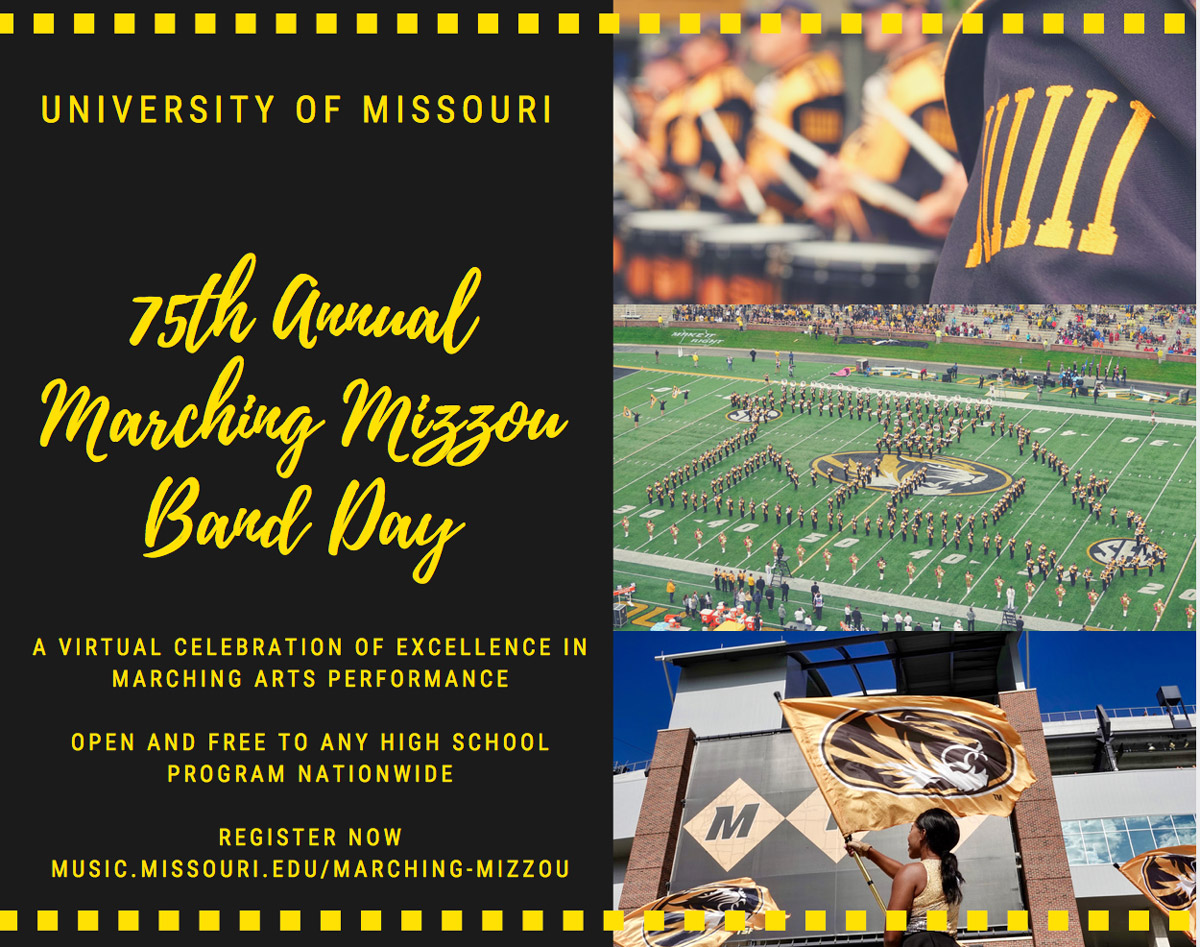 75th Annual Band Day - A virtual celebration of excellence in marching arts performance! Submissions due October 2, 2020 with performances streamed online on October 10th. Visit music.missouri.edu/marching-mizzou > High School Marching Events for more information and to register.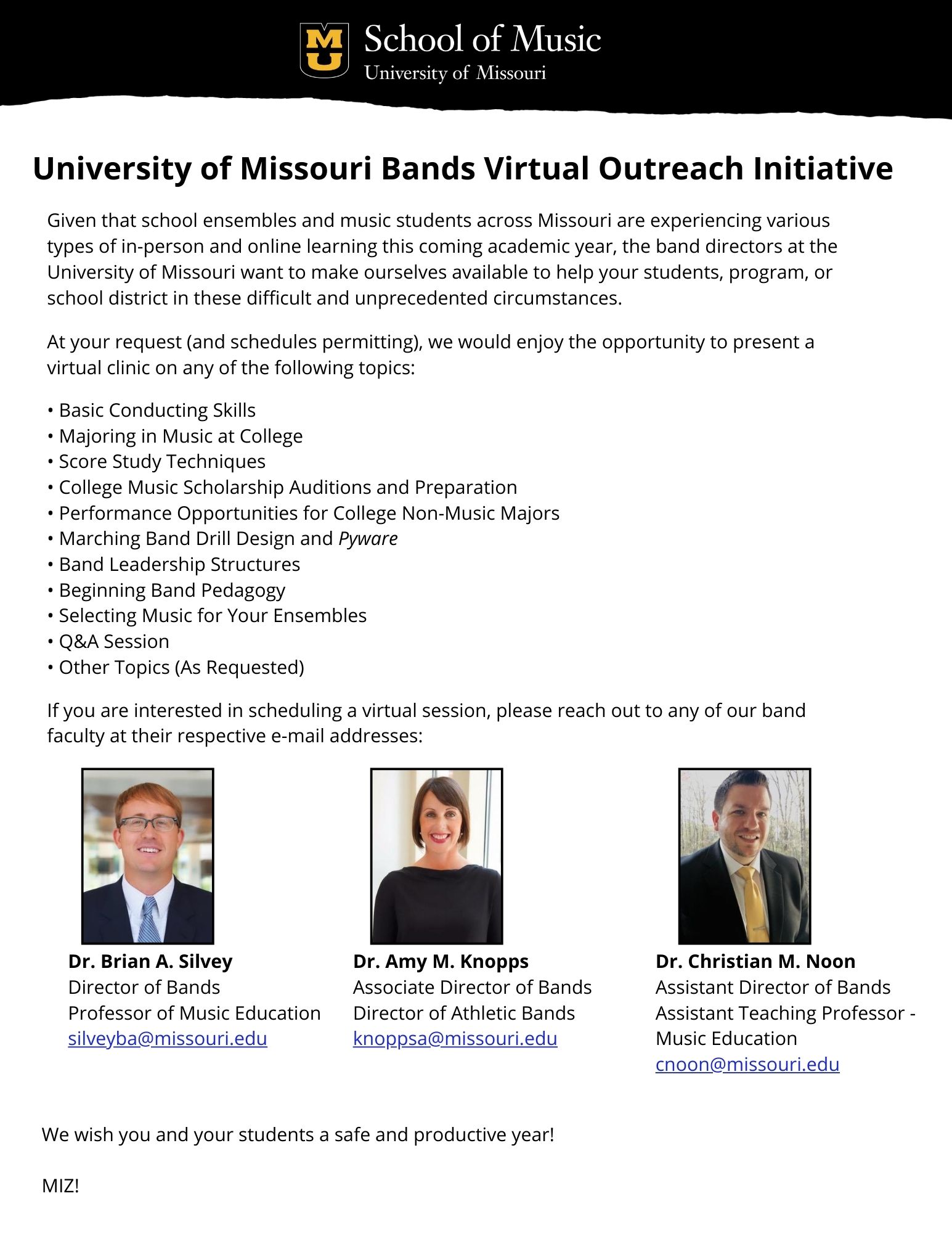 MU Bands Virtual Outreach Initiative - Given that school ensembles and music students across Missouri are experiencing various types of in-person and online learning this coming academic year, the band directors at the University of Missouri want to make ourselves available to help your students, program, or school district in these difficult and unprecedented circumstances. At your request (and schedules permitting), we would enjoy the opportunity to present a virtual clinic on a variety of topics. If you are interested in scheduling a virtual session, please reach out to any of our band faculty (Dr. Brian A. Silvey, Dr. Amy M. Knopps, or Dr. Christian M. Noon).