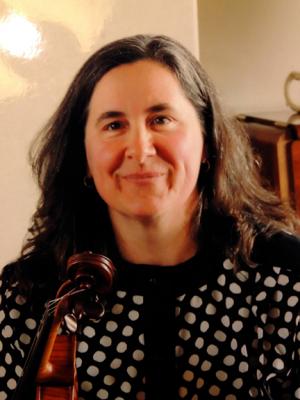 Professor, Viola
Director of Missouri String Project
259 Fine Arts Building
Bio
Leslie Perna, violist, has appeared as a teacher, performer and recording artist (Albany, Aquebis, Berklee, Capstone, Centaur and CRI labels) across the Americas, Europe and Asia. After earning a Bachelor of Music degree from Baldwin-Wallace College Conservatory and a graduate degree from Boston University, she studied chamber music at the Chautauqua and Blossom music festivals, and with members of the Cleveland, Emerson, Kolisch and Muir quartets. Her performances have been broadcast internationally on radio and television in the Americas and Canada, including National Public Radio, public radio stations across the country, Brazil's Radio and TV MEC, and ABC's Nightly News with Peter Jennings.
A respected artist and teacher, Perna has been a faculty member at the Tanglewood Institute, the University of Southern Maine, and Viterbo University, and has directed chamber music programs in Boston, Maine, Cleveland, Atlanta and Wisconsin. Her solo and chamber music recitals include performances in Russia, France, Germany, Canada, Brazil, Boston, New York, Chicago, Cleveland, and Atlanta. Ms. Perna performed throughout Japan as soloist and assistant concertmaster of the Yamagata Symphony Orchestra, and was a member of orchestras and summer festivals throughout New England and the Midwest. She has presented master classes and performances at music schools such as Florida State University, Georgia State University, Boston University, Boston College, Boston Conservatory, Berklee School of Music, and Baldwin-Wallace Conservatory.
She toured North America and Europe as a member of the Artaria Quartet of Boston, selected to participate in the National Endowment for the Arts "Rural Residency" program, and named one of the ten leading young quartets by the Banff International String Quartet Competition. During the 2003-2005 seasons, she was the violist of the Da Vinci Quartet in Colorado, and faculty at the University of Denver's Lamont School of Music and Colorado College. Currently Professor of Viola and Chamber Music at the University of Missouri, Perna is violist of the Esterhazy Quartet (ensemble-in-residence at MU) and the Concordia String Trio, renowned for its performances of both standard and neglected repertoire as well as commissions of new music for the string trio genre.