Wednesday, November 2, 2022
Earlier this semester, School of Music graduate teaching assistant Kara Balthrop (Donnelly) received a nice surprise on a Wednesday morning in the Fine Arts Building.  Members of the College of Arts & Science Student Council interrupted Dr. Murph's class where Kara is a TA this semester and announced that Kara had won the Green Chalk Award for her work as an Outstanding TA in Spring of 22.  She was nominated by Sophie Leftwich, a student in last semester's class, who says "Last year, Kara was the TA for my music history courses (2307 & 2308) and I really appreciated her passion for the subject! I remember one class she filled in for our professor and found a way to keep the whole class engaged even though it was 8 am. She was also very reassuring on test days since listening-quizzes can be pretty daunting... she always had a positive spirit and gave us lots of encouragement!"
Dr. Megan Murph is the professor that teaches these classes and enjoys working with Kara.  "Kara is reliable and organized, which makes working with her a dream! I so appreciate her willingness to help and drive to do well."
In addition to being a TA for music history classes, Kara is also an editorial assistant for Dr. Brian Silvey, Professor of Music Education and Director of Bands in the School of Music.  Dr. Silvey says:
"In addition to being an incredible musician, Kara is an outstanding scholar. As my editorial assistant for Update: Applications of Research in Music Education, I can always trust that she will do her best in helping authors get their best ideas published."
Kara answered some questions for us regarding her time at MU.
Why did you come to MU?
My now-husband and I both decided to apply to Mizzou in the hopes of not having to go long-distance after we finished our undergraduate degrees at Murray State. Luckily for us, we were both accepted! He's now working towards a PhD in Physics and I'm finishing up two Masters degrees. It was definitely the best choice for us.
What do you like about being a teaching assistant? Both in the classroom and as an editorial assistant?
I love interacting with my students and watching things start to click for them as the semester goes on. There's no better feeling than seeing them do well, since their success is my success! Regarding my editorial assistantship, working closely with Dr. Silvey has really helped me get my foot in the door as a researcher. Since I'm also currently working on my thesis, the journal has been an invaluable resource for me in terms of learning the ins and outs of academic research and publication.
What are your plans for the future?
My hope is to teach an oboe studio for a university and/or hold a position in a professional orchestra. Even if that doesn't work out, I know I'm going to keep playing!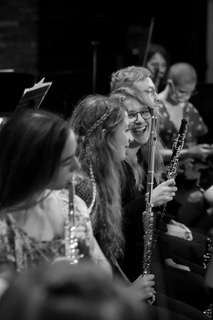 What is your favorite memory at MU?
My favorite memory (so far) has been playing games and eating brownies at Professor Willett's oboe dinners. The conversations are fun and the food is always great!
The School of Music congratulates Kara on winning a Green Chalk Award and is excited to see what her future holds.