School of Music Shines Bright at A&S Award Ceremony
This past Friday, the College of Arts & Science concluded Arts & Science week with an awards reception celebrating the achievements of A&S staff, faculty, alumni, and students.  The School of Music had an award winner in every category.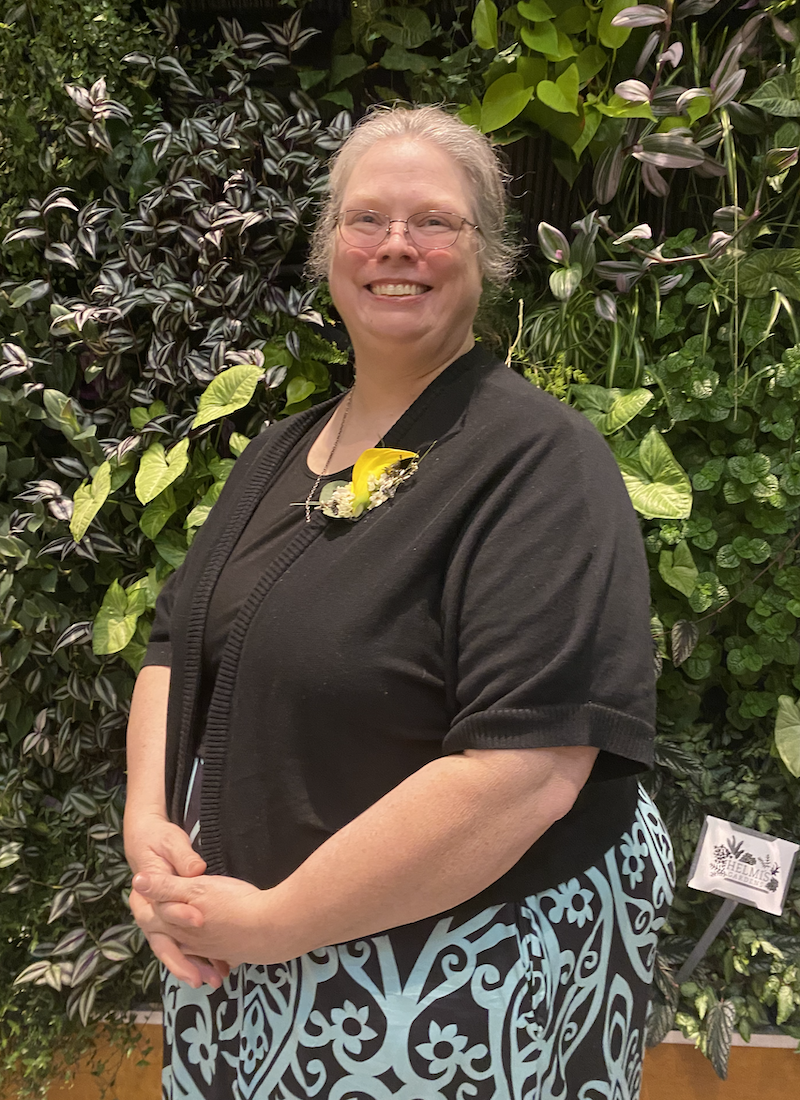 A&S Staff Member of the Year
Susan Worstell, current staff
Susan Worstell was selected as one of two outstanding staff members in the College.  She has served on the School of Music staff for almost 20 years and currently takes care of all things related to student success.  Her continuity and historical knowledge is incredibly valuable to our School.  She has gotten many a student through their degree correctly!  From her nominator:
"Susan goes above and beyond for many of our students and faculty.  One of her personal characteristics I admire most is her empathy.  She can sense when students or faculty are having a rough day and goes the extra mile for them.  I have seen many alums come back to the School of Music and seek her out to say hi and reconnect.  Recently, an alum came to her first –before the director or any faculty – to show off a new baby.  She has had a fingerprint on so many of our students over the last two decades and we are a better School because of her."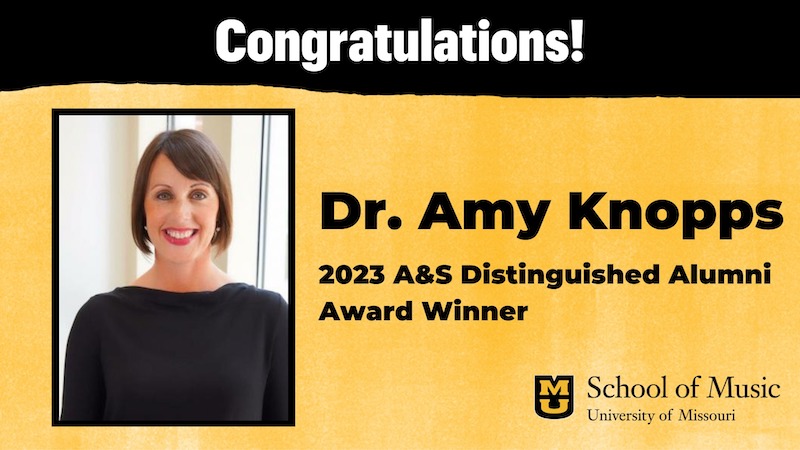 A&S Distinguished Alumni of the Year
Amy Knopps, current faculty
Dr. Knopps came back to MU in 2017 as the Associate Director of Bands and the Director of Athletic Bands.  She has grown Marching Mizzou from 250 members to 350 in those five years.  Her programming has been exceptional which culminated in an invitation and successful performance in the 2022 Macy's Thanksgiving Day Parade.  She graduated from MU with a music education degree and has distinguished herself with many awards since then.  Most recently she was awarded the 2021 A&S Associate Professor of the Year, and a 2021 A&S Purple Chalk Teaching Award which is an award that comes from the students.  From her nominator:
"The significance of Marching Mizzou participating in last year's Macy's Thanksgiving Day Parade cannot be understated.  Only a handful of people/alumni have brought that much positive exposure to MU.  When Amy was an undergraduate, she took advantage of the leadership opportunities MU had to offer by earning the spot of head drum major of Marching Mizzou and participating on the Tour Team.  She was so excited to come back "home" in 2017.  Her current students will tell you that she absolutely bleeds black and gold and makes sure she does everything possible to respect the University for everything it has done for her."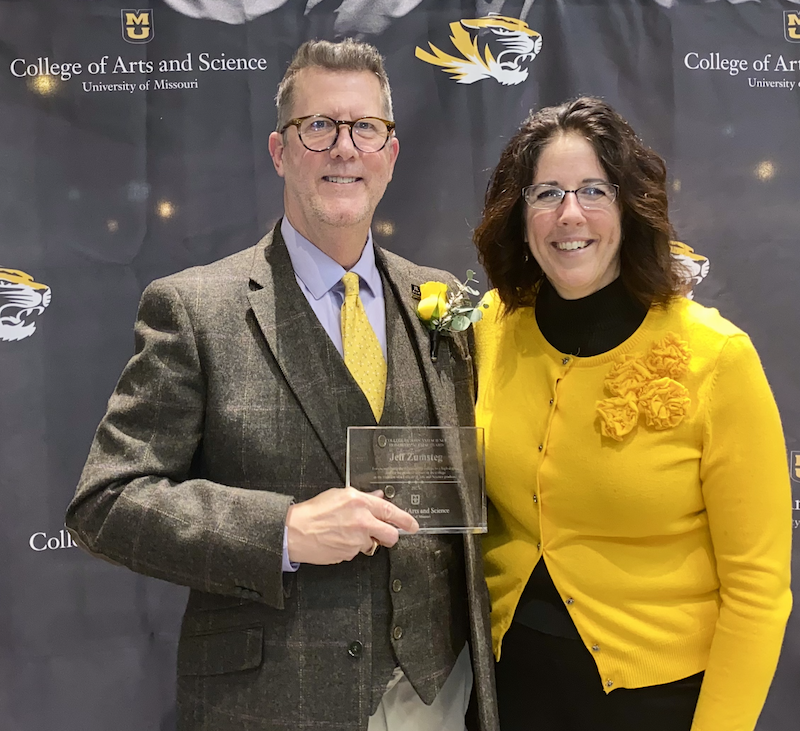 Honorary Alumni Award
Jeff Zumsteg, Marching Mizzou alum
Jeff is a double graduate of MU with an undergraduate degree from the College of Education and a graduate degree from the College of Business but his heart was and still is fully embedded in A&S through the School of Music and Marching Mizzou.  All during his time at MU, he was active in music.  He sang with University Singers and Choral Union.  He played French horn in concert band and was a six-year member of the mellophone section of Marching Mizzou.  His passion for M2 is so strong, he has never missed the opportunity to be on Faurot field with Marching Mizzou at Homecoming in 40 years.  He is active in the KC Alumni Chapter and is a regular contributor to several scholarship funds in the School of Music.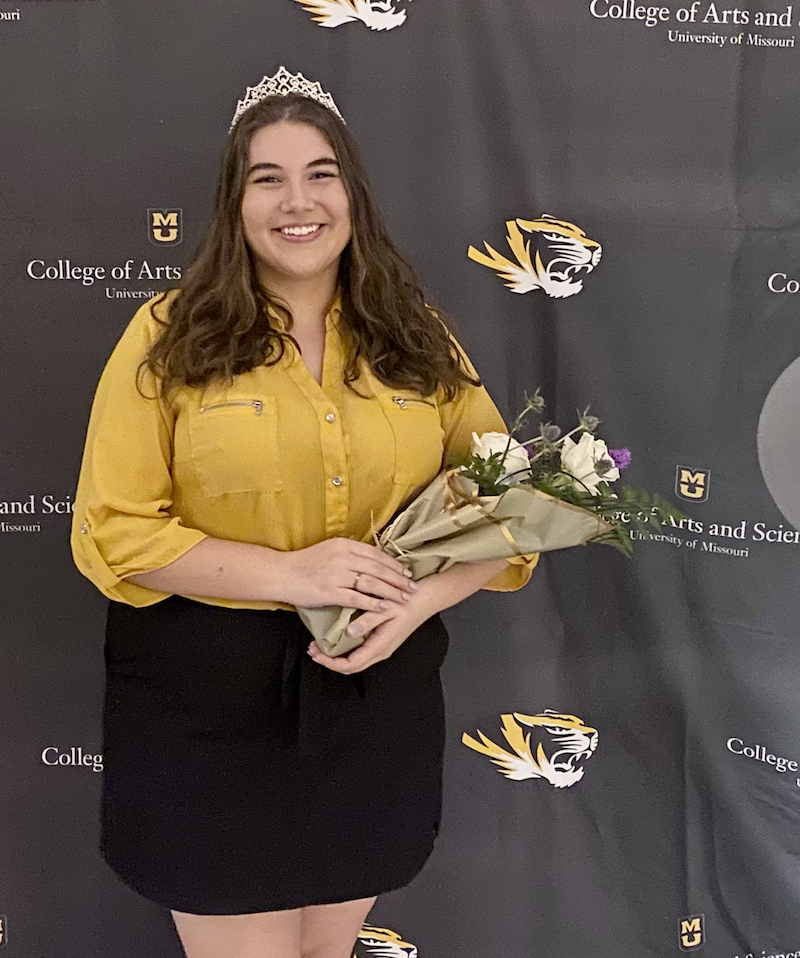 A&S Royalty
Shannon Martin, current student
Shannon Martin is a vocal junior music education major in the School of Music and was recognized as one of four students to be dubbed as A&S Royalty.  This award was established last year by the A&S Student Council as part of A&S week.  In order to be chosen, students had to describe what it means to uphold one of the four values of Mizzou:  Respect, Discovery, Excellence, and Responsibility.  Shannon was chosen for her work in modeling the value of Respect.  Shannon is currently the President of Sigma Alpha Iota, a music fraternity in the School of Music, and the MU Collegiate chapter of the National Association for Music Education.  She is a four-year member of the Missouri Students Association (MSA) and has served on the First Year Council and as a senator during her time at MU.  She currently sits on the Executive Branch of MSA.  She is also a member of Marching Mizzou (M2) and traveled with the band to march in the Macy's Thanksgiving Day parade last November.  She was on the M2 Leadership Team for Band 137 and served as the Coordinator of Special Projects coordinating M2's Homecoming Activities among many others.  The School of Music is proud to call Shannon A&S Royalty for all she does for the School and MU!