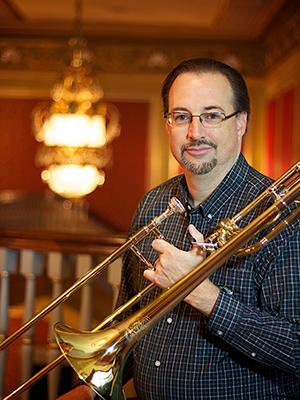 Associate Professor, Trombone
DMA, University of Nebraska
211 Fine Arts Building
573-882-0926
Bio
Dr. Timothy Howe received a Bachelor of Music degree in trombone performance from Northwestern University in 1983, where he was a student of the late Chicago Symphony trombonist, Frank Crisafulli. Shortly after his graduation from Northwestern, Dr. Howe was appointed Second Trombone of the Omaha Symphony in 1983. He served in this position for over 20 years, performing everything from great symphonic and operatic masterworks to concerts with popular music artists and educational programs. In addition to his orchestra duties, Dr. Howe was a member of the Omaha Symphony Brass Quintet.  During his time in Omaha, Dr. Howe also was appointed Principal Trombone of the Lincoln (NE) Symphony, a position he held from 1997-2003, and Principal Trombone of the Des Moines Metro Opera, a position which he still currently holds. He also performs regularly with the Shreveport Symphony, the Arkansas Symphony, South Arkansas Symphony, and was Principal Trombone of the Pine Bluff (AR) Symphony.
Dr. Howe received a Master of Music degree in 1995 and a Doctor of Musical Arts in 2002 from the University of Nebraska-Lincoln and was a student of Vernon Forbes and Dr. Scott Anderson. He has received additional instruction and master classes with Max Bonecutter, Glenn Dodson, and Michael Mulcahy. Dr. Howe's thesis was entitled: Developing a Historical Model for Trombone Performance Practice in German and Austrian Orchestral Works from the Period 1785-1830.  The University of Nebraska-Lincoln honored Dr. Howe as a distinguished arts alumni and he performed a guest recital on campus in 2004. In addition he has performed solo recitals and concerto performances at colleges in Michigan, Indiana, Arkansas, Nebraska and Iowa. In May 2006 and 2008 he presented master classes and recitals at the Sichuan Conservatory in Chengdu, China. Recent premieres include Episodes for Trombone and Timpani by Phillip Parker at the South Central Conference of the College Music Society, and Fanfare for Trombone and Computer by Jeremy Baguyos at the Society for Electro Acoustic Music in the United States National Conference at Iowa State University. He has been a region jazz clinician in Arkansas and president of the Arkansas Jazz Educators Association. He released his solo and chamber music CD "Across  the Wide Missouri, New Music for Trombone" in 2014. It is available on CD Baby.
Dr. Howe performs with the Drei Bones Trombone Trio, which has presented concerts and master classes at the International Trombone Festival, The Americam Trombone Workshop, Midwest Trombone and Euphonium Conference, Big Twelve Trombone Conference, and many universities. They released thier debut CD "Drei Bones" in 2016 on Emeritus Recordings and their second CD, "Of Hammered Gold" will be released in spring 2019 on Emeritus as well.
Dr. Howe teaches trombone, low brass methods and directs the Trombone Choir at the University of Missouri. Before coming to Missouri, Dr. Howe was Assistant Professor of Music at Arkansas Tech University.  He has also served as a faculty member at the University of Nebraska-Lincoln, Grace University, Nebraska Wesleyan University, Dana College, Concordia College, and Union College.