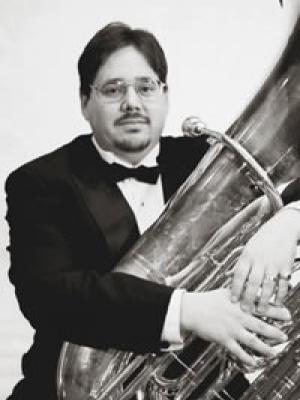 Associate Professor, Tuba & Euphonium
206 Fine Arts Building
573-882-7032
Bio
Dr. Angelo Manzo is currently an Associate Professor of tuba and euphonium at the University of Missouri. Dr. Manzo has been a member of the music faculty at MU since 2001 where he teaches applied tuba and euphonium, directs the MU Tuba and Euphonium Ensemble, and performs regularly with the University of Missouri Faculty Brass Quintet.
A native of Washington, he entered his undergraduate studies at the University of Puget Sound as a vocal performance major, but began serious instrumental study his sophomore year. While focusing on tuba performance, he also continued his vocal training throughout both his undergraduate and graduate studies. He holds a Bachelor of Music degree from the University of Puget Sound, a Master of Music degree from Baylor University, and a Doctor of Musical Arts degree from The University of Texas at Austin. His primary tuba instructors include: Ron Munson, Steve Fissel, Michael Fischer, and Steven Bryant.
Dr. Manzo has performed on television and radio with professional brass quintets and symphonies, including the Puget Sound Brass Quintet, Brazos Valley Brass Quintet, Tacoma Symphony, Waco Symphony, Federal Way Philharmonic, and the Seattle Symphony. His playing can be heard on many commercials and movie soundtrack credits, including The Empty Mirror, Rudyard Kipling's The Second Jungle Book: Mowgli and Baloo, The Adventures of Pinocchio, and Stargate SG-1. Dr. Manzo is very active throughout the United States as a recitalist, clinician, adjudicator, and most recently has given master classes and performances at several American and Russian universities, including the University of Kansas, Kansas State University, Oklahoma State University, the Moscow Conservatory of Music, the Gnessin Institute (Moscow), and the Mussorgsky School of Music (St. Petersburg). As a soloist/artist he has appeared at a variety of state, regional, and national/international conferences, including the 2006 International Tuba-Euphonium Conference; 2003 and 2007 Great Plains Regional Tuba and Euphonium Conference; 2007 Midwest Regional Tuba and Euphonium Conference; and 2007 Mid-South Regional Tuba and Euphonium Conference. Locally, he performs with the Missouri Brass Consortium, the Missouri Symphony Orchestra, and the University of Missouri-Faculty Brass Quintet.
Dr. Manzo has commissioned, arranged, transcribed, and composed several pieces for tuba and euphonium. Currently, more than twenty of his works for tuba and tuba/euphonium ensemble are published by the Tuba-Euphonium Press.