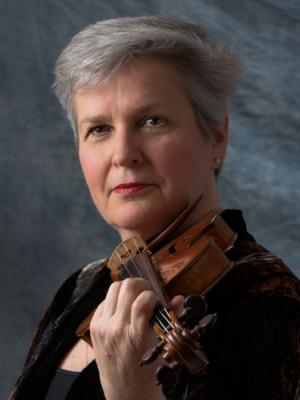 Associate Professor, Violin
MM, Yale University
BM, University of Southern California
260 Fine Arts Building
573-882-0937
Bio
Violinist Julie Rosenfeld is "a force of nature" according to American Record Guide in its review of her CD New Music for Violin and Piano. A native of Los Angeles, for 32 years she was the First Violinist of the Colorado String Quartet, winner of both the First Banff International String Quartet Competition and the Naumburg Chamber Music Award within ten days in 1983, playing more than 1200 concerts, touring throughout every part of the United States and Canada, and in more than 20 other countries, including the Netherlands, Belgium, England, Ireland, France, Germany, Spain, Italy, the Czech Republic, Bosnia, Norway, Denmark, Israel, Korea, the British Virgin Islands, Colombia, Peru, and Mexico.  Their recordings of both standard and contemporary repertoire (most notably the complete Quartets of Beethoven) garnered praise from critics far and wide, as did their championing of many of today's leading composers such as Karel Husa, Joan Tower, Richard Wernick, Katherine Hoover, George Tsontakis, Laura Kaminsky and Libby Larsen.  The Soundfest Festival and Institute of String Quartets, a music camp for players aged 10 to adult amateur, founded in 1991 in Falmouth, Massachusetts, was directed by the Colorado Quartet until 2013, and they were the Quartet-in-Residence at Bard College from 2000 until 2009.  They have held residencies at Oberlin, Swarthmore and Amherst Colleges, and have given Master Classes at the Cleveland Institute of Music, the Eastman School and at Yale University, among others.
In the Fall of 2014, Ms. Rosenfeld joined the faculty of the University of Missouri School of Music, becoming a member of the Esterhazy String Quartet, in residence there. From 2009 until 2013, Ms. Rosenfeld was Assistant Professor of Violin In-Residence at the University of Connecticut, and from 2001 to 2009 she was a Visiting Professor of Music at Bard College. She also taught violin and chamber music at the European Mozart Academy in Poland. After attending the Curtis Institute of Music, she received her Bachelor of Music from the University of Southern California, and her Master of Music from Yale University, studying with such eminent teachers as Szymon Goldberg, Nathan Milstein, Robert Mann, and Yukiko Kamei.  Ms. Rosenfeld has served on juries for the Astral Foundation, the Juilliard School, the Mu Phi Epsilon Foundation, and Concert Artists Guild; as well as for the Banff International String Quartet Competition, and the Fischoff and Coleman Chamber Music competitions. She has performed at the Marlboro, Santa Fe, Newport and La Jolla Chamber Music Festivals and has appeared as a guest artist with the Chamber Music Society of Lincoln Center.  She also collaborated with André Previn on the West Coast premiere of his Violin Sonata and on two CDs of French chamber music for BMG Classics. Professor Rosenfeld's most recent recording is a collaboration with her MU colleague Peter Miyamoto on their Albany CD titled New Music for Violin and Piano.
Ms. Rosenfeld plays on a Giovanni Battista Guadagnini violin, made around 1750, and owns bows crafted in the early 19th Century by Dominique Peccatte and Nicolas Maire.
Recordings/Publications: Parnassus Records (complete Quartets of L. van Beethoven, Brahms Quartets, Schubert/Mendelssohn Quartets) and Albany Records