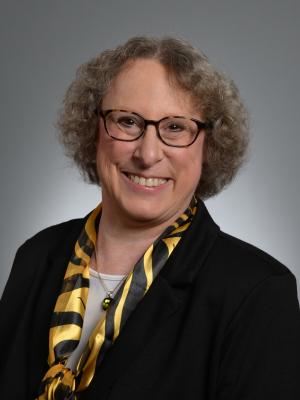 Curators' Distinguished Teaching Professor, Music Education
Director of Undergraduate/Graduate Studies in Music Education
PhD, Florida State University
268 Fine Arts Building
573-882-3238
Bio
Professor Wendy L. Sims received her bachelor's and master's degrees in music education from Kent State University, and her doctoral degree in music education from Florida State University. She has been a member of the MU faculty since 1985. A specialist in early childhood and elementary music education, she teaches a variety of undergraduate and graduate music education courses, advises bachelor and master's degree students, and supervises doctoral student programs and research. Previously she taught K-6 general music, and continues to volunteer weekly as the music teacher for preschool and toddler classrooms in MU's Child Development Laboratory. She is the recipient of several prestigious teaching awards, including the Kemper Fellowship for Excellence in Teaching and the Missouri Governor's Award for Teaching Excellence. She also was the music curriculum consultant for a Public Broadcasting System (PBS) educational television series based on the Angelina Ballerina book series.
Dr. Sims is an active researcher and writer, publishing articles regularly in national and international journals such as the Journal of Research in Music Education, Psychology of Music, International Journal of Music Education, and Music Educators Journal. She is editor of the book Strategies for Teaching: Prekindergarten Music, and co-editor of the book Music in Prekindergarten, both published by the National Association for Music Education (NAfME). In July 2014 she completed an 8-year term as Editor of the Journal of Research in Music Education, and currently serves on the editorial committee of the International Journal of Music Education. She regularly presents research sessions and workshops at national and international conferences. 
Dr. Sims has held national offices in the National Association for Music Education's Society for Research in Music Education, including Chair, and serves as the Research Chair for the Missouri Music Educators Association. She also has been an active leader within the International Society for Music Education (ISME), having served as Chair of the ISME Early Childhood Commission, as a member of the Board of Directors, and as Chair of the Publications Committee.  Her contributions to ISME were recognized with her selection as an Honorary Life Member, the organizations' highest honor.   Dr. Sims also was the recipient of the NAfME Senior Researcher Award in 2016, as well as the Alumnae of Distinction Award conferred by the faculty of the Florida State University College of Music. In 2019, she was selected for membership in the Missouri Music Education Association Hall of Fame.