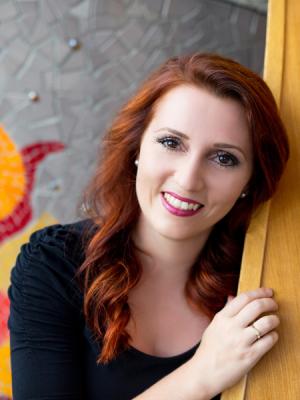 Harp
Bio
Maria moved to the USA in 2006 from Slovakia, and she quickly established herself as one of the most sought after harpists in Missouri. She is the principal harpist of both the Missouri and the Springfield Symphony Orchestras as well as adjunct instructor of harp at the University of Missouri and Truman State University. 
She collaborates with local musicians in solo recitals and chamber music and appears regularly with the Odyssey Chamber Music Series. You can also find her performing at the University Club, where she is the resident harpist.
As a wedding ceremony musician she has provided music for more than one hundred and fifty couples. In addition, she performs for many different types of special events and service groups each year, including bringing music to the homeless and the mentally and physically challenged. Her philosophy of the healing power of music has brought her a large following, and in 2011 Maria initiated the monthly Harp and Healing services at the Broadway Christian Church that still continue today. Some of the music from those Harp and Healing services eventually became a best-selling album "Healing Harp." In 2016 Maria embarked on her second recording and new projects with group harp ensembles as well as taking the harp into unexpected locations.
As a teacher she brings her wealth of experience as a performer and teacher to reach a broad age range of harp students. She maintains a very active teaching studio, and her students mirror their teacher's dedication to performances outside of the box and out of mainstream locations. Her students include young classical students who study solo and orchestral literature, but also include singer-songwriter performer, folk harp performers, as well as those numerous adults just playing the harp for the sheer joy and pleasure of making music. To give an example of her thinking outside of the box, she was the winner of the 2011 Missouri's Got Talent Contest performing crossover jazz/classical harp repertoire.
Born in the Slovak Republic, Maria Duhova Trevor holds a Masters degree in Harp Performance from the Academy of Music and Dramatic Arts in Bratislava, where she studied under Katarina Turnerova and Adriana Antalova. Prior to that she studied harp performance at the Conservatory of Music in Zilina under Tibor Kovac. She completed her studies there performing the Mozart Concerto for Flute and Harp with the Slovak Sinfonietta. During her Conservatory studies she made several broadcast recordings of solo harp works for the Slovak Radio.
From 1996 to 1999 Maria was Principal Harpist of the Bohuslav Martinu Philharmonic in the Czech Republic, with whom she toured throughout Europe. In 1999 Ms. Trevor was a featured recitalist at the Seventh World Harp Congress.  Later that year, she was appointed to the harp position at the Slovak National Opera, where she played in over fifty different opera and fifteen different ballet productions.
From 2002 to 2005 Maria was a recording harpist for the Slovak Radio Symphony Orchestra with whom she participated in dozens of contemporary music and movie score recordings. In 2001 she premiered and recorded "The Angel's Harp", a new work by American composer David Ott for harp and orchestra. In 2003, she joined the SRSO on their tour of Japan. 
Maria has been principal harpist of the Missouri Symphony Orchestra since 2001 and has been a featured soloist on numerous occasions as well as a regular chamber music collaborator with musicians from around the country. As an orchestral harpist she has collaborated with many great artists including Art Garfunkel, Johnny Mathis, Eileen Ivers and the Texas Tenors.
Maria lives in Columbia, Missouri during the school year with her husband, international conductor and cellist, Kirk Trevor, and their three children, eleven year old Sylvia, nine year old Daniel and four year old Aidan. They spend their late summers at their home in Bratislava keeping up with all her family and the children spending time with their cousins. She keeps a harp there, too, so she can stay in practice!