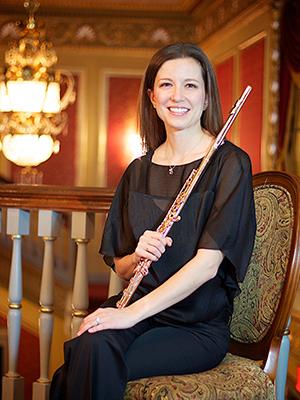 Associate Professor, Flute
214 Fine Arts Building
573-882-3452
Bio
Alice K. Dade enjoys a career of great variety including concerto and chamber music appearances, recording projects, television appearances, and guest principal performances in orchestras in Asia and Scandinavia.
As a soloist, Ms. Dade is an award winner of the Olga Koussevitsky Wind Competition of the Musicians Club of New York and The New York Flute Club Competition. She has performed with the Guanajuato Symphony Orchestra (Mexico), Orquesta Sinfónica Juvenil Red de Escuelas de Música de Medellín (Colombia), PRIZM Festival Orchestra, and the Festival Mozaic Orchestra.
Ms. Dade has performed chamber music as part of the Busan One Asia Festival, Chestnut Hill Chamber Series, Concordia Chamber Players at The Princeton Festival, Summerfest of Kansas City, and National Flute Association Conventions.
As Acting Co-Principal Flute of the Swedish Radio Symphony Orchestra, Ms. Dade performed in concert tours to Russia, Germany, Italy, Belgium, and throughout Sweden. She has also performed as Guest Principal Flute with the Bergen Philharmonic, Norrköping Symphony Orchestra, and Seoul Philharmonic, as well as Guest Piccolo with the St. Louis Symphony. In addition, she has performed with the Moscow Chamber Orchestra, New York Philharmonic, Los Angeles Philharmonic, and Detroit Symphony Orchestra.
Ms. Dade can be heard on Deutsche Grammophon as Acting Principal Flute of the Swedish Radio and Arte Verum as Flutist and Piccolo of the Swedish Chamber Ensemble with soloist Barbara Hendricks. Her first solo album, Living Music, will be released on Naxos in February 2018. CD release events are scheduled in Paris, France and California.
Ms. Dade is a guest star of a new PBS series called Now Hear This. Scott Yoo, Ms. Dade's husband and host of the show, travels the world chasing the secret histories of our greatest musical works and their composers while discovering connections to today's music, art, and culture.
Ms. Dade joined the faculty at the University of Missouri School of Music in 2011 and has presented masterclasses at many universities including Inje University (South Korea), The University of Guanajuato (Mexico), Vanderbilt University, Penn State University, and The University of Kentucky. She has been a faculty member of PRIZM International Chamber Music Festival, Flutes by the Sea Masterclass, and Medellín Festicamara.
A columnist of Chicago Flute Club's quarterly Pipeline Newsletter since 2010, Ms. Dade has also been published in Flute Talk Magazine, The Instrumentalist, and The Flute View.
Alice left her childhood home at the age of fifteen to attend Interlochen Arts Academy. Upon graduation, she attended The Juilliard School for undergraduate and graduate studies, where she studied with Carol Wincenc, Robert Langevin, and Sandra Church.
Alice is a Powell Artist and plays a handmade 14K Powell Flute with a platinum headjoint.