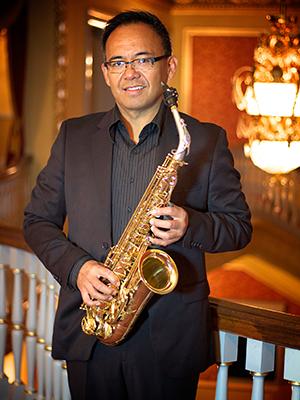 Associate Professor, Saxophone
Woodwind Area Coordinator
MM, Northwestern University
258 Fine Arts Building
Bio
Leo Saguiguit enjoys a busy schedule teaching and performing as a soloist and chamber musician throughout the United States and abroad, including Cuba, France, Italy, Sweden, Greece, China, Taiwan, Thailand, and the Philippines. He collaborates with numerous chamber ensembles and currently performs with the Athens (Greece) Saxophone Quartet, the Chicago Saxophone Quartet, the Missouri Saxophone Quartet, Trio Chymera, and the Odyssey Chamber Music Series of Columbia. Past memberships have included the Lithium, Impuls, and Enigma Saxophone Quartets.  With the Enigma Quartet, he earned a coveted prize in the prestigious Fischoff National Chamber Music Competition. Other collaborations include performances with the Basel Saxophone Quartet (Switzerland), Fulcrum Point New Music Project (Chicago), Thamyris Contemporary Music Ensemble (Atlanta), National Black Arts Festival (Atlanta), and the Sewanee Music Festival (Tennessee).  In addition to recitals and festival performances, he has performed at the China International Clarinet & Saxophone Music Festival in Nanning, the World Saxophone Congresses held in Minneapolis and Bangkok, and in numerous conferences of the North American Saxophone Alliance and U.S. Navy Band International Saxophone Symposium.
Saguiguit has appeared as concerto soloist with numerous orchestras and wind ensembles, including the St. Louis Civic Orchestra, Sewanee Festival Orchestra, Lakeshore Symphony of Chicago, Northwestern University Symphony Orchestra and Symphonic Band, University of Missouri Symphonic Wind Ensemble and Symphonic Band, and a tour of France with the Northshore Concert Band. As an orchestral saxophonist, Saguiguit has performed regularly with the Lyric Opera of Chicago, Milwaukee Symphony, Grant Park Music Festival Orchestra, Atlanta Symphony, Florida Orchestra, and Missouri Symphony.  He has recorded six CDs with the professional wind ensemble Philharmonia à Vent and has also recorded solo and chamber music of Luc Marcel, John David Lamb, Michael Adamis, Athanasios Zervas, Dinos Constantanides, Dimitris Themelis, and others.
Saguiguit is Associate Professor of Saxophone at the University of Missouri, where his students have won numerous competitions at the state, regional, and national levels.  He has also given master classes and lectures at the University of Macedonia-Greece, Philippos Nakas Conservatory of Athens (Greece), Orfeion Conservatory of Athens (Greece), University of the Philippines College of Music, California Institute of the Arts, Southern Methodist University, Baylor University, Indiana State University, and numerous others. Prior to his appointment at the University of Missouri he held faculty positions at Northwestern University, Emory University, University of the South, Truett-McConnell College, and the Merit School of Music of Chicago. He earned degrees from Emory University as a student of Stutz Wimmer and Northwestern University, where he was a student of Frederick Hemke. Other teachers include Paul Bro and Jonathan Helton.