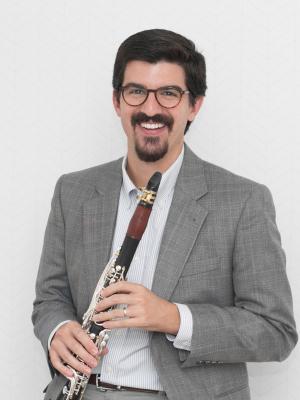 Associate Teaching Professor, Clarinet
BM, Missouri State University
MM and DMA, Michigan State University
261 Fine Arts Building
573-884-2521
Bio
American clarinetist Wesley Warnhoff's "thoughtful, effortless, and intense" performance style has gained him international acclaim as a soloist, orchestral, and chamber musician. Wes is currently serving as Assistant Teaching Professor of Clarinet at the University of Missouri where he leads the clarinet studio and performs with the Missouri Quintet. Wes is also the former principal clarinet of the Battle Creek Symphony in Michigan, a post he held from 2010 until 2019.
An avid proponent of music education, Wesley's research into the clarinet's contemporary extended techniques has helped him to develop a unique pedagogical approach that provides a new perspective on creating the ideal embouchure and sound concept. It is this dedication to teaching that makes him a sought-after artist and clinician throughout the United States.
As a champion of new music, Wes has given many new music premieres including the world-premiere of Murray Gross' Rhapsody for Clarinet, I Surrender, and Carolina Heredia's Vanishing. Along with performing new music, Dr. Warnhoff has also added to the performing repertoire, most notably with his transcription for clarinet, voice, and piano of "La Vita e Inferno" from Verdi's La Forza del Destino. Wesley is also an active commissioner of new music, and his current project is Monologues by Aaron Mencher, a contemporary concerto for clarinet and orchestra to be performed in the Fall of 2019.
Prior to his appointment at the University of Missouri, Wes was on the faculty at the University of Wisconsin-Madison where he was Adjunct Assistant Professor of Clarinet and performed with the Wingra Wind Quintet, an ensemble-in-residence at UW-Madison. He has also served on faculty at Alma and Albion Colleges in Michigan.
Wes received his degrees in higher education from Michigan State University, where he earned his DMA and MM, and Missouri State University where he earned his BM. His primary teachers include Dr. Elsa Ludewig-Verdehr, Dr. Allison Storochuk, and Dr. Jack Scheurer.
Wes is an artist for Backun Musical Services and performs exclusively on Backun Lumiere clarinets.