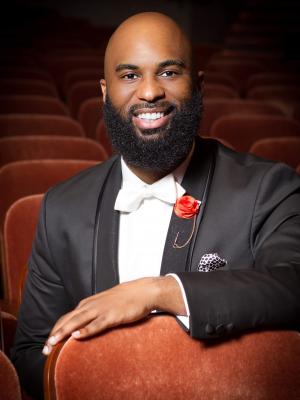 Associate Professor, Director of Choral Activities
Director of Choral Activities and Graduate Choral Conducting Program
Associate Professor of Choral Music Education
PhD, Florida State University College of Music (2017)
MM, Florida State University College of Music (2014)
BS, Tennessee State University (2010)
312 Sinquefield Music Center
Bio
Dr. Brandon A. Boyd enjoys a versatile career as a conductor, in addition to appearing regularly as a composer-in-residence, collaborative pianist, and presenter for conferences, conventions, collegiate choirs, church choirs, choral symposiums, and festivals. He is the Director of Choral Activities and Associate Professor of Choral Music Education at the University of Missouri, where he conducts MU University Singers and Choral Union. In addition to his conducting duties at the university, he teaches undergraduate and graduate courses in choral conducting and choral music education. 
As a proponent of choral singing to build community, his research interests include organizing choirs for the homeless, identifying the social and physical effects of choral singing on senior citizens, creating authentic field experiences for music therapy and choral music education students. For three years, Dr. Boyd co-directed three choral community partnerships in Florida: The Tallahassee Senior Choir, RAA Middle School Partnership Choir (university students and middle school singers), and the MTC Women's Prison Glee Club (university students singing with women housed in a correctional facility).
As an active composer and arranger, his music is sung regularly by ensembles throughout the United States and abroad. He is also the curator and editor of the "Brandon A. Boyd Choral Series," a choral series with Hinshaw Music Publications helping promote exciting and innovative works composed by both established and new composers and arrangers. His music also appears in the catalogs of Gentry Publications, Hinshaw Music Company, MorningStar, GIA, and Kjos Music Press. In addition, he is the Executive Choral Editor of Gentry Publications.  
As a global collaborator in the orchestral world, Dr. Boyd has served as chorus master, assistant conductor, and guest pianist with the London Symphony in London, England. He prepared the NDR Elbphilharmonie Orchestra and Vokalensemble for Maestro Alan Gilbert for multiple productions of Gershwin's Porgy and Bess, in Hamburg and Kiel, Germany. In the U.S., he has guest conducted the Nashville Symphony, Missouri Symphony, and the St. Louis Symphony. He has made multiple performances at Carnegie in the capacity of guest conductor, composer, and collaborative pianist. 
Dr. Boyd served as guest faculty at the Universidad Católica Boliviana - San Pablo of the Unidad Academica Regional Tarija to provide conducting workshops, in addition to serving as guest conductor of the Philharmonic Orchestra, Sociedad Corla Andaluz, Symphonic Orchestra in a presentation of American music at the Historic Casa de la Cultutura de Tarija (Tarija's House of Culture). He also was a guest professor at the Universidad Evangelica in Santa Cruz, Boliviana. The Partners of the Americas sponsored both university partnerships.  
Dr. Boyd served as Santa Fe Desert Chorale's Composer-in-Residence and Community Engagement Leader for their program Giving Voice to the Voiceless. The Chorale premiered a work commissioned by the SFDC, I Search, during their 35th Anniversary of the Summer Justice Concert Series. He served as assistant conductor, pre-concert lecturer, and guest pianist. He set to music a text written by "Poet V," a young participant in the Voces de Libertad program at the Santa Fe County Youth Development Center. His duties also included organizing and conducting the Interfaith Community Shelter Street Choir, thus creating a safe place for men, women, and children experiencing homelessness within the Santa Fe community. Other commissioning partners include Choirs of America Nationals for Top Choirs at Carnegie, Southwestern Adventist University, Florida State University/Tallahassee Community Chorus, New Mexico Music Educators Association, and the University of Nebraska-Kearney. 
He holds two degrees from Florida State University (Ph.D. in choral music education and M.M. in choral conducting) and earned a B.S. in music education (emphasis in piano) from Tennessee State University. He is a proud member of the Phi Mu Alpha Music Fraternity, Inc., Pi Kappa Lambda, American Choral Directors' Association (ACDA), National Association for Music Education (NAfME), National Association of Negro Musicians (NANM), American Guild of Organists (AGO), and Chorus America. Dr. Boyd also serves as a member of the National ACDA Composition Initiative committee.  
Videos
Hold On arr. Brandon A. Boyd performed at the 2020 SWAU Southwestern Music Festival
Until I Reach My Home arr. Brandon A. Boyd performed by the Tallahassee Community Chorus, NaGuanda Nobles, soprano
I'll Fly Away arr. Brandon A. Boyd performed at the 2020 SWAU Southwestern Music Festival
I Wanna Be Ready arr. Brandon A. Boyd performed by MU University Singers at National ACDA 2020
United, We Are! written by Jermaine Manor and Brandon A. Boyd
Jacob's Ladder arr. Brandon A. Boyd, Marques L. A. Garrett, baritone