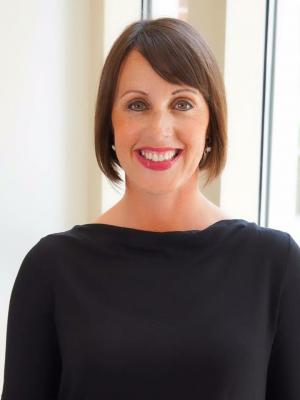 Aim-ee M. Kuh-nopps
Associate Teaching Professor, Associate Director of Bands, Director of Athletic Bands
Associate Director of Bands
Director of Athletic Bands
BS, Ed. University of Missouri, 2001
MM University of Kansas
DMA University of Georgia
209 Sinquefield Music Center
573-882-3439
Bio
Amy M. Knopps is the Associate Director of Bands and Director of Athletic Bands at the University of Missouri where she directs Marching Mizzou, Mini Mizzou, Symphonic Band, and teaches undergraduate and graduate courses in the School of Music. Under her direction Marching Mizzou has grown in size from 245 members in 2017 to a current capacity 350 members in 2022, which stands today. In 2022 Marching Mizzou performed in the 96th Annual Macy's Thanksgiving Day Parade and in 2024 will travel to Dublin, Ireland to perform in the St. Patrick's Festival Parade. 
Prior to her appointment in the fall of 2017, Dr. Knopps served for seven years as Associate Professor of Music, Associate Director of Bands, and Director of Athletic Bands in the School of Music and Dance at Eastern Michigan University. While at Eastern Michigan she was a Faculty Spotlight Recipient, the Eastern Michigan University Thank-A-Teacher Inaugural Recipient, and featured in a historic exhibition titled, "In Her Shoes: Forging Paths at EMU" as she was the first woman to direct the Eastern Michigan University Marching Band and serve as Associate Director of Bands.
Dr. Knopps earned degrees from The University of Georgia (DMA), the University of Kansas (MM), and the University of Missouri (BS, Ed.) where her principal conducting teachers were Dr. John P. Lynch and Dr. Dale J. Lonis. While at Georgia and Kansas she held conducting associate positions that involved conducting both concert and athletic bands as well as teaching courses in the music curriculum. During her time at The University of Georgia, Dr. Knopps received the Hugh Hodgson School of Music Director's Excellence Award and at the University of Kansas she received the Russell L. Wiley Graduate Conducting Award.
Additional teaching experience includes numerous years as Director of Bands at Center High School and Center Middle School in her hometown of Kansas City, Missouri where she guided all aspects of the diverse and award-winning band program, as well as served as Fine Arts Coordinator. While in the Center School District, Dr. Knopps received the 2003 Missouri Fine Arts Outstanding Teacher Award and the 2004 You Make the Difference Award for her dedication and commitment to excellence in education. As an advocate for new wind music, she solely commissioned and premiered Jonathan Newman's 1861 for concert band in 2003 and continues her commitment to contributing to the wind band repertoire through additional commissions for Symphonic Band at the University of Missouri. 
Dr. Knopps continues to be a very active conductor, clinician, and adjudicator across the United States and internationally having worked and performed throughout Asia, Australia, Canada, Europe, and South America. For nearly ten years she has served as a head clinician/instructor at the Smith-Walbridge Clinics held in Charleston, Illinois each summer working with high school and collegiate drum majors from across the country. Dr. Knopps is also known for her published contributions as she has authored several articles for School Band and Orchestra Magazine, and has contributed to eight volumes of the Teaching Music Through Performance in Band series. In addition to her published articles and podcasts, she has completed extensive research on American-Sponsored overseas secondary band programs.
Dr. Knopps maintains professional affiliations with the College Band Directors National Association (CBDNA), currently serving as Chair of the CBDNA Athletic Bands Committee, where she is the first woman to ever serve in this position, and as Missouri State Chair, World Association for Symphonic Bands and Ensembles (WASBE), the National Association for Music Education (NAfME), National Band Association (NBA), Phi Beta Mu, Tau Beta Sigma, Kappa Kappa Psi, currently serving as the sponsor for the Eta Upsilon chapter, the Griffiths Leadership Society for Women, currently serving on the Executive Committee as Past Chair, and QEBH, the oldest of six secret honor societies at the University of Missouri when she was Honor Tapped in 2018.
In 2021, Dr. Knopps was named Associate Professor of the Year and earned a Purple Chalk Teaching Award from the College of Arts and Science. In 2022, Dr. Knopps was named to the 2022-2023 University of Missouri Provost Leadership Program Cohort. In 2023, Dr. Knopps earned a Distinguished Alumni Award from the College of Arts and Science, the Faculty and Alumni Award from the Mizzou Alumni Association, and was inducted into the Marching Mizzou Hall of Fame. She currently resides in Columbia, Missouri with her cats Rocky and Macy.